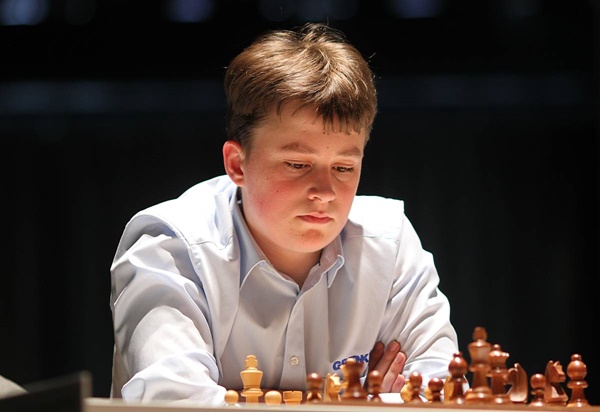 Grenke Chess Classic: Keymer, 14 years old, scores his first win in round 5!
The big result of the day came from the all-German clash between Vincent Keymer and Georg Meier, where the 14-year-old finally scored his first point in style.
As black, Meier essayed a sharp Queen's Gambit Accepted and the players got into an interesting duel with their kings castled on opposite wings. Keymer got the better position out of the opening and by the time the middle game arose, he was close to winning. Meier pointed out after the game that Keymer's 25.Qf5 was an inaccuracy and that his opponent should have tried to firmly plant a rook on the c6 square.
"I was very happy to see 25.Qf5; it was my only chance to survive. Instead, b4-b5 with the idea of Rc6 was much better," Meier said. But while he did manage to wriggle out of any serious danger in the middle game, fate wasn't as kind on Meier in the endgame. He was walking on thin ice in the pawn endgame that had ensued and did not manage to find the most accurate continuation to hold the game. Keymer played perfectly in the technical phase of the endgame and sealed victory after the 81st move.