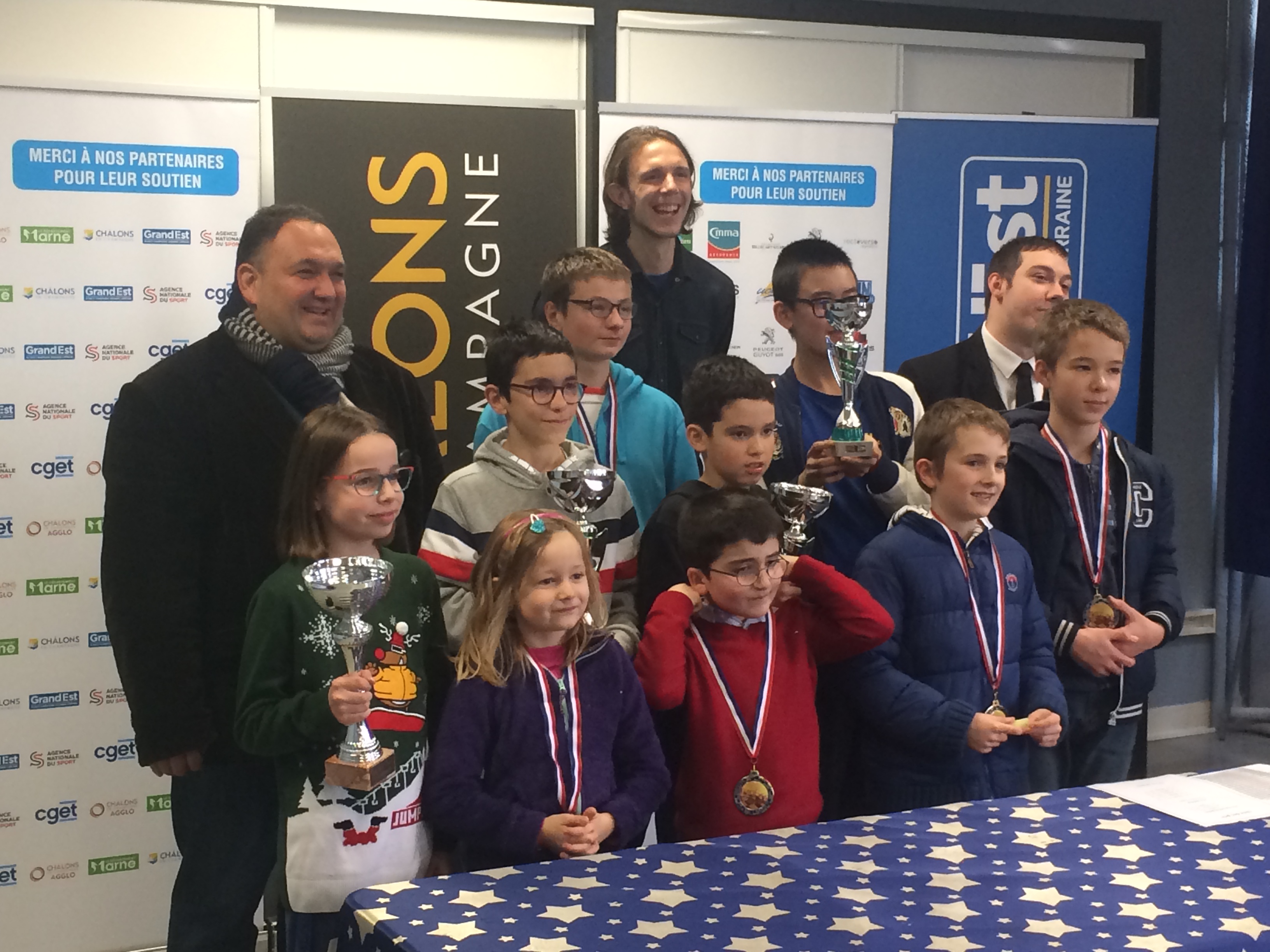 Chess results - Tournoi Chalons en Champagne (-1600) - 21-22 December 2019
(English and French below)
What a nice setup in Chalons, what a nice and warm welcome ! Thank you to the club, the director Diego Salazar, the arbiter Jordan Akremann, and their coach always there for the kids, Guillaume Philippe.
36 kids participated in that Open, with 5 rounds of 50min + 10s. 3 rounds took place on Saturday and 2 on Sunday.
The open was won by Hugo LALONDE (U14) with 5 points, followed by Quentin LAIGNEL (U10) with 4 points, and Julien HUANG (U14) with 4 points.
Our club representatives, Nicolas BOURG and Adrien DEVITT, finished respectively 10th and 8th with 3 and 3.5 points.
Click here for pictures, and you will notice how everything is done to encourage the learning of chess ! Results can be found here.
.
Un très beau cadre à Chalons, et un très bel accueil de tous les membres ! Merci au directeur du club, Diego Salazar, à l'arbitre du tournoi Jordan Akreman, et à leur coach Guillaume Philippe qui a toujours soutenu les enfants.
36 participants ont pris part à cet Open avec 5 rondes de 50min + 10s. 3 rondes le samedi, et 2 rondes le dimanche,
C'est Hugo LALONDE (U14) qui remporte le tournoi avec un carton plein de 5 points, suivi de Quentin LAIGNEL (U10) avec 4 points. Julien HUANG complète le podium avec 4 points.
Nos 2 représentants de club, Adrien DEVITT et Nicolas BOURG, terminent respectivement 8eme et 10eme avec respectivement 3.5 et 3 points.
Les photos vous montreront comment tout est fait pour encourager l'apprentissage des échecs dans ce club. Les résultats sont ici.