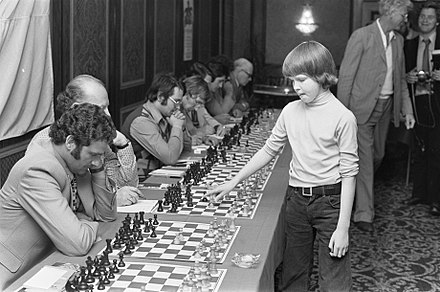 Chess Club: simultaneous exhibition Sunday 3rd May 2020
Dear all,
Our club is proud to announce that Jerome Van Eyll will host a simultaneous exhibition on Sunday 3rd May at 11.00am exclusively for our club.
Jerome is a former colleague of mine when I was working in London. One day, I discovered that his passion was chess (he had strange books in the office). For a long time, he avoided telling me that he was runner up in the French championship in 1996 ! (He officially finished 4th after tie-break). He was also coach for Marie Sebag who later became Grandmaster (
https://en.wikipedia.org/wiki/Marie_Sebag
).
* The exhibition will take place on Lichess
* Jerome will play as white with 40min + 20s per move
* Everyone else will play as black, with 20min + 20s per move.
* Jerome will play against up to 20 boards.
The link will be sent on Sunday 3rd May at 10.00am via mail and Lichess. Remember to open an account on Lichess and to join our club on Lichess (if you are unsure about those points, please give me a call).
We are looking forward to welcoming Jerome for this exhibition !